No lengthy creative approvals
To help advertisers get their campaigns off the ground in no time, we have removed the cumbersome and often inefficient creative approval process. In most existing advertising platforms, creatives are subject to independent approval by each individual ad exchange. Across the exchanges, the approval process could take from a few hours to over a week. This often leads to delays in campaign launching and is largely ineffective as inappropriate ads still manage to slip through the cracks.
To streamline the process, at AdHash we concentrate the effort on identifying and removing the abusers, rather than wasting time on proactively checking all users. The systems and processes which we have put in place can be divided into:
Proactive: A combination of vision APIs is used to check every ad and signal potential issues. If flagged, the ad is reviewed and blacklisted if it is in violation of our policies.
Reactive: Everyone can block an ad that they feel is misleading, offensive, or that they simply do not wish to see. Ads that are frequently blocked by users are reviewed to ensure a clean and safe advertising environment.
Privacy and control
Advertising should compliment the content, not hold it hostage in the interest of extracting sensitive information. AdHash works without relying on personal data and cookies. It targets people by reading contextual signals to achieve relevance while respecting privacy. And we are transparent about it.
Users are given complete visibility into who is targeting them and why. A library of recently seen ads and blocked ads provides a record beyond the last served ad. Users can now effectively block ads they do not wish to see, and really stop seeing them.
Privacy-respectful advertising is the path to regaining readers' trust and allowing publishers to create more and better quality content outside of paywalls.
Ad quality control
Have you tried to block an ad using AdChoices only to see that same ad two minutes later? The lack of unique ad IDs means that the current AdChoices tools don't really give users any choice.
The Ad Quality Control tools are designed to change this. Our creation of unique ad hashes enables users to effectively remove undesired ads and advertisers. The Ad Quality Control icon in the upper right corner of each ad allows people to block ads they do not wish to see.
Ads that are blocked multiple times over a short period of time are reviewed and, if found inappropriate, are removed from the AdHash Ecosystem.
Ad blockers
Intrusive ads have pushed users to install over 600M ad blockers.
We believe that a better and more meaningful advertising experience can halt the rise of ad blockers and enable marketers to engage more successfully with customers. This is why we have taken steps to remove repetitive ads, disruptive ad formats, and intrusive ad targeting.
For those who want an ad-free browsing experience, we also have a solution. AdHash is the first platform to enable users to bid against advertisers. All you need is a wallet ID and you can remove all AdHash ads from your browsing experience without hurting your favourite publishers.
To get started, please complete the join form for users.
Scalability
Micro transactions are performed off-chain. This reduces the blockchain transaction costs and sidesteps its current scalability limitations, making the AdHash blockchain framework uniquely suited to the high-speed transactions of real-time bidding advertising. Our fully distributed server architecture also ensures that all advertisers and publishers are responsible for their own ad serving and data analytics. Even if one of them drops out of the network due to lack of capacity or temporary interruptions, the rest of the network would remain unaffected.
Security
AdHash combines blockchain and off-chain transactions to offer transparency while maintaining a level of security. Detailed transaction data is stored off-chain and only on the advertisers' and publishers' servers.
The application of off-chain transactions and public-key cryptography, on the other hand, ensures that any sensitive information such as media buying patterns and bidding strategies remains private.
Faster ad serving
Slow ad serving impacts viewability. If an ad does not load, it cannot be seen. The AdHash algorithmic improvements reduce the ad request load on each server by up to two orders of magnitude. This makes ad serving approximately thirty times faster. Removing heavy ad formats and third-party scripts further minimises the ad loading time, making ads less heavy on your hardware.
Ad Builder
Create high-impact ads quickly and effortlessly with the Ad Builder. Build skins that consider each website's unique design to render perfectly every time. Cut the back-and-forth communication and automate the process.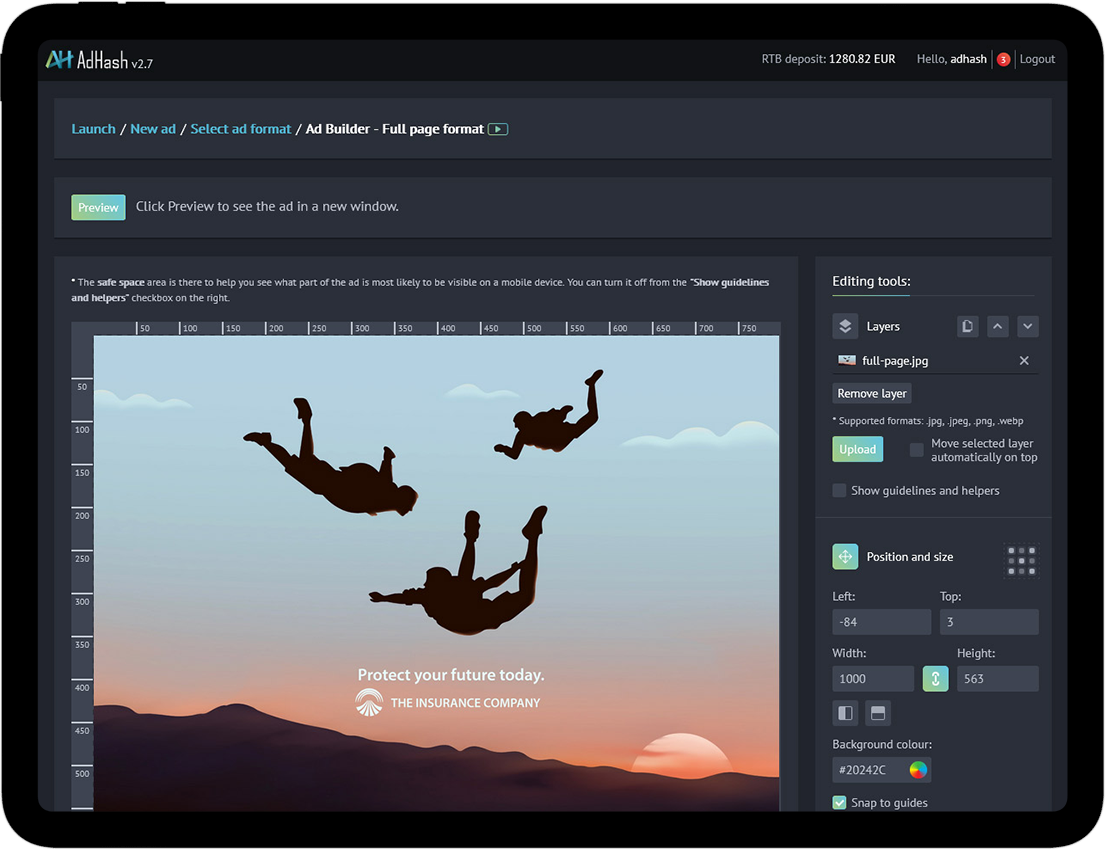 Watch the magic happen: Ad Builder video tutorial.
Open source
We open-sourced the AdHash protocol so that anyone can plug in, build on top of it, and benefit from improving and diversifying its features. We welcome ad tech providers to integrate their products with the AdHash Protocol. Here is what we offer:
Seamless integration compatible with Open RTB 3.0.
GNU GPLv3 licensed open-source code enables continuous innovation and improvement.
Autonomy on the AdHash framework and freedom to set your own commissions, policies, and terms of operation.